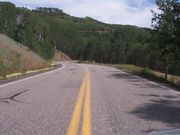 The UT-12 Scenic Byway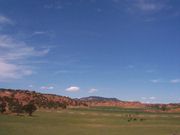 A grassland along UT-12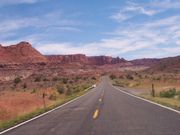 UT-24 Scenic Byway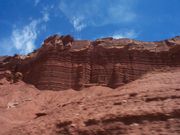 The Capitol Reef's colors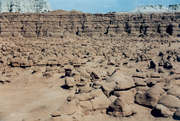 The Goblin Valley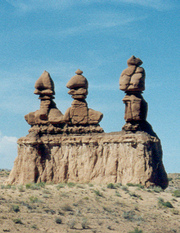 The Three Sisters at the Goblin Valley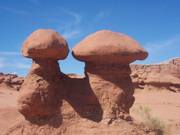 The Goblin Valley's typical rocks
Departure: Tropic, UT
Arrival: Moab, UT
Lodge: Motel 6
Price: 54$+tax
Leg Km: 510 (318 Miles)
Total Km: 2623 (1630 Miles)


Summary

| | |
| --- | --- |
| | -UT-12 Scenic Byway |
| | -UT-24 Scenic Byway |
| | -Capitol Reef NP |
| | -Goblin Valley SP |

Saturday, 26th July
(Tropic)
Escalante Parade
Magda looks quite happy about the breakfast we eat in our room. Who could have imagined that we could ever be bored of pancakes? At about 9 a.m. we leave Tropic following the UT-12 Hwy. I don't know why, but the idea of a "scenic byway" has always particularly attracted me. We drive at a leisurely pace and plan to arrive to Moab by the evening. The scenery is more similar to a "movie's far west grassland" than you can imagine and it wouldn't be surprising to see a cowboy riding his horse, a stage coach or bison grazing.
We stop in Escalante to fill up with gas. The main street is full of American flags and a lot of people seem to be waiting around for something to happen. So we ask a nice woman about it and she tells us that they're celebrating Utah's birthday anniversary. The real anniversary date is July 24th, but here in Escalante they celebrate it on the Saturday after. During the scheduled parade, people on the wagons throw candy to children. So, we decide to stop and wait for the parade. It's pretty bleak. An old truck used as wagon and a band of cheerleaders dance but out of synch. But the atmosphere is festive and it's nice to see children enjoying their candy. Before the parade's end, we are back in our car ready to move. We discovered that great joy can be found in a little town.
Capitol Reef
The UT-12 between Escalante and Torrey is surely one of our favorite roads; one of the best seen on the trip. We drive through 70 miles of wonderlands that we could only have dreamed before. If I ever reach inner peace, I'll reach it in some place like this.
After Torrey, we leave UT-12 entering UT-24 east. This highway is also a scenic byway and it appears immediately clear why it deserves to be called so. At the beginning, it passes through Capitol Reef NP. Planning this trip we decided not to visit this park to gain more time to spend in other parks. Capitol Reef has some of the strangest rocks we'd ever seen. In the first part of the park, the rocks' colors range from red and brown. Going further on to Hanksville, change again, passing from white to red, from silver to gold while noticeably changing their shapes as well. At times, we can barely believe that this is something really produced by the Nature.
We stop in Capitol reef for a couple of hours, principally to drive along 9 mile scenic byway and we also give a look at some petroglyph. At about 2 p.m. we leave the park and stop in Hanksville to eat. Here's a tip: be very careful looking at the towns' dimensions on a map. Both small towns and a ghost towns are often indicated with the same symbol. For example, Hanksville and Tropic have the same dimension on our road atlas but Tropic is a town and Hanksville not much more than a few souls in the middle of nowhere. Our restaurant, the Red Rock Restaurant, is just the same very nice; the food is delicious. My cheeseburger, chicken breast and ham are super. Magda's chicken is pretty good too. We end our lunch with a piece of cake and a cup of coffee that should help me to stay awake in the afternoon while I'm driving.
Goblin Valley
The sun is high in the sky when we are again in our car driving on the UT-24. This area is not as spectacular as the last one but the desert views are fascinating. Here we get a first idea of the famous endless American spaces and the limitless horizon.
In the middle of this landscape, about 20 miles from Hanksville, we turn west on the road leading to the Goblin Valley SP. The entrance ticket costs 5$. Goblin Valley features strange goblin-shaped rocks. The number of these formations is astonishing. They cover the whole valley. We leave the car and take a walk and have fun using our fantasy to see something real in the rocks' shapes. After an hour spent among the goblins, we get back to the car ready to get to Moab. Just before the Goblin Valley itself, there is one more spectacular rock, in my opinion, the most amazing one of all. In the middle of a endless flat land, rises the Three Sisters with three silhouettes standing out against the blue sky. Wonderful!
Moab
Moab is still a long drive off and the view has become less spectacular. Time passes chatting and listening to music. When we arrive to Moab it's about 6 p.m.
We browse around the Arches NP visitor center picking up maps and magazines to help us to plan tomorrow's visit. We leave our luggage at our Motel6 and we do some big shopping for the next three days. Behind the trees in the parking lot we notice some kind of red light. We think it's a fire but leaving the parking lot we realize that it's actually the sunset! We've never seen such brilliant color in our lives. Tomorrow, if we're lucky, we'd like to be able to enjoy the same show at the Delicate Arch.